Bleach and Death Note = new fandoms
only_gremo
I'm currently terribly obsessed with two animes:
Bleach
and
Death Note
. It's been awhile since I've last been this obsessed with an anime. I think the last two animes I've been fangirling over were
Dragon Ball Z
and
Gundam Wing
of which the latter is still one of my main fandoms. But now - thanks again Gremo - I've got two new fandoms. :)
I've not yet finished watching Bleach and Death Note. But I'm getting there!
Anyway, since I'm so in love with Bleach I wanted to make some icons of it. So I went searching for screencaps, but, dude believe it or not, it's damn hard to find some. Really, I'm not kidding here! I couldn't for the life of me find screencaps from all the episodes, especially episode 01. That's why I made my own caps and since Bleach screencaps are so rare, I want to share them. In fact, I'm planning on making caps from each episode. But for now here are the caps from episode 01.
Bleach Episode 01 Screencaps: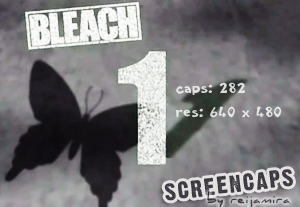 DOWNLOAD:
ZIP FILE (88,56 MB's)
SAMPLES:
(Click on the thumbnails for a bigger view.)
---
Don't hotlink.


Please comment when taking!


Please credit me (reijamira) somewhere.
---
Thanks to my dear friend