Entire SPN Season Two Gag Reel Up
OMG!! It is up! The Supernatural Season Two Gag Reel
has been uploaded to YouTube
! Enjoy folks! Our boys are awesome, as always!
ETA: 09-15-2007 @ 01:28am only_gremo went back here to have a look at the Gag Reel and told me the link to YouTube is down. So she provided another link, HERE, where you can not only watch the Gag Reel in HQ but also download it in the same quality! Great, isn't it?
Just a little teaser!
The GIGANTIC smack on the ass:
(Click on the thumbnail for a bigger version!)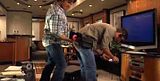 ________________________________________
_________
first seen
here
│thanks for the pic go to
ckll
│x-posted to
jaredp_fans