Jensen and that wig
the Supernatural Season Two gag reel
by now? If so, you surely remember the following picture. Jensen wearing that awfully funny wig:
(Click on the thumbnail for a bigger version!)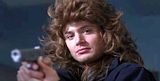 I can't stop laughing whenever I see that picture! It's just too hilarious! So, a day before yesterday I watched 2.03 "Bloodlust" again, the episode in which we first meet Gordon. I noticed how serious Gordon is and how much he seems to like Dean, because both are cool and tough guys! Then I was wondering how tough-guy Gordon would react if Dean's hair actually was cut like the wig! LOL! That cracked me up even harder!
_________________
screencap made by
ckll
Everyone seen